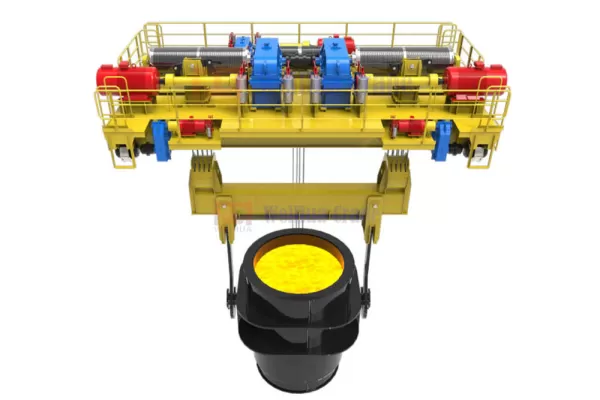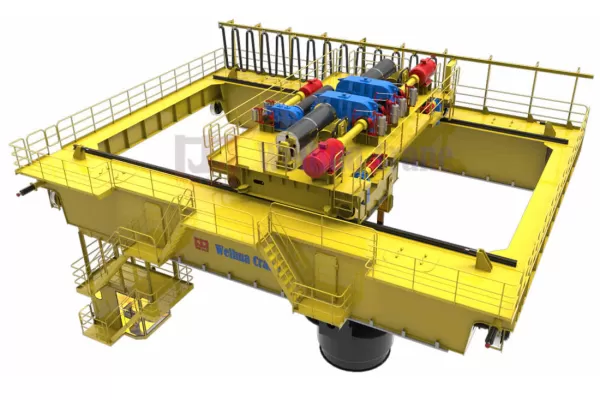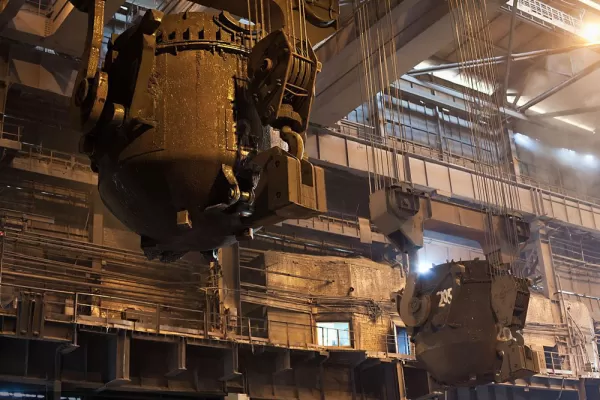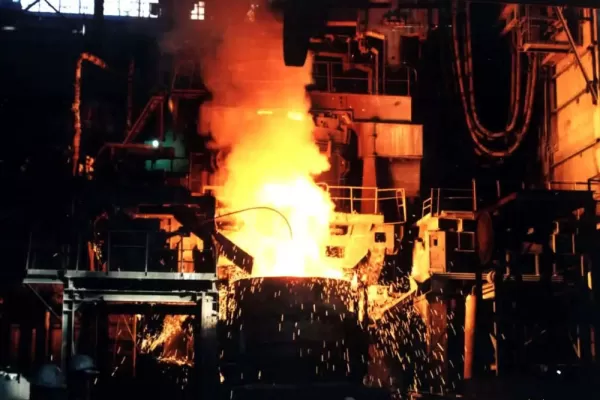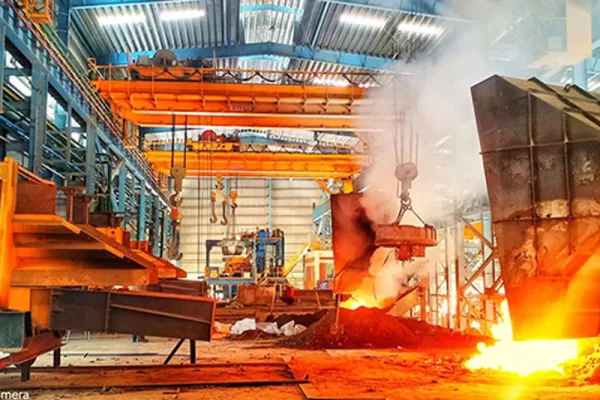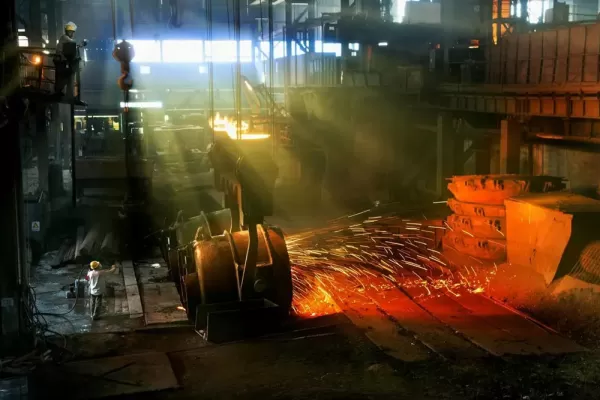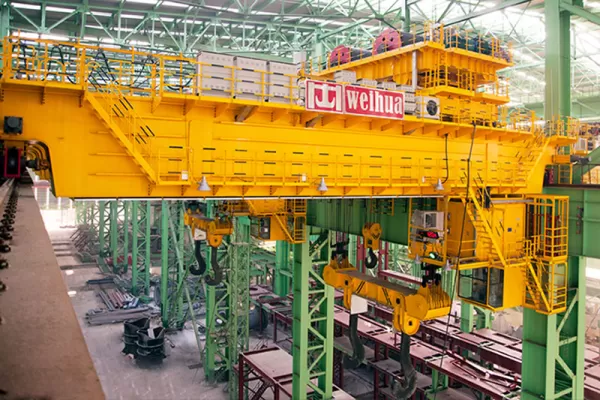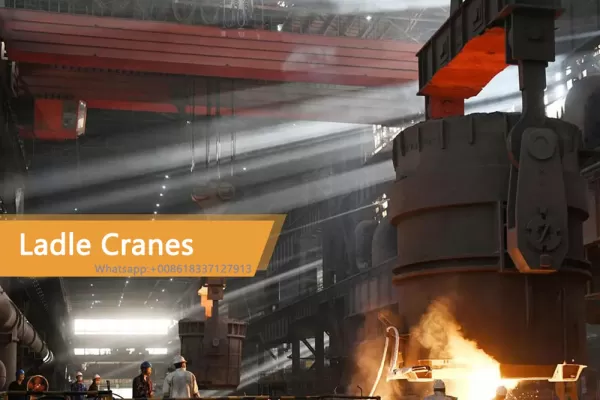 ArcelorMittal, the second largest steel producer in the world, chooses WEIHUA Crane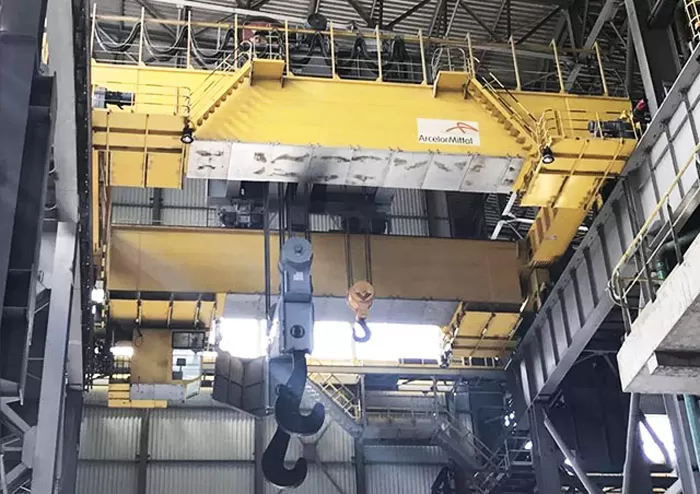 Steel Mill Crane Solutions From China Weihua Crane
We provided 14 cranes for ArcelorMittal, including: two sets of 250-ton metallurgical ladle handling cranes; four sets of 80-ton double girder overhead cranes; two sets of 25-ton grab cranes; and six sets of 25-ton electromagnetic cranes.
Why ArcelorMittal chose WeiHua Crane?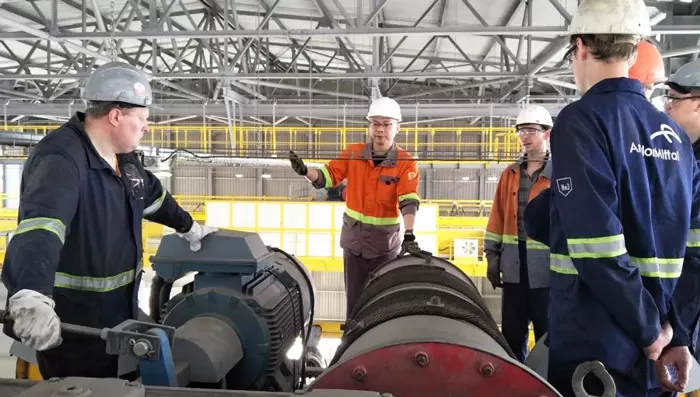 All of the steel mill cranes designed and manufactured for ArcelorMittal Group are outfitted with Siemens control systems and inverters. ABB provides all motors. All the gear reducers are from SEW. SIBRE manufactured all the brakes.
Weihua sales in 2021 will be 2.28 billion US dollars, of which steel mill cranes account for 34% of the total sales. We have a lot of design experience and industry-leading auxiliary design software. Our technical department has 1,000+ people, which can Meet all the technical requirements of your steel plant, and communicate and improve the design plan through technical meetings at any time. You can also conduct a video factory audits at any time, or send personnel to our factory to supervise production.
Ladle Cranes video
Ladle Handling Overhead Crane is one type of metallurgy crane, which is designed for transporting, pouring and charging hot metal in the process of smelting liquid metal, etc. Also called casting overhead/bridge crane or foundry overhead/bridge crane.
Ladle Cranes drawing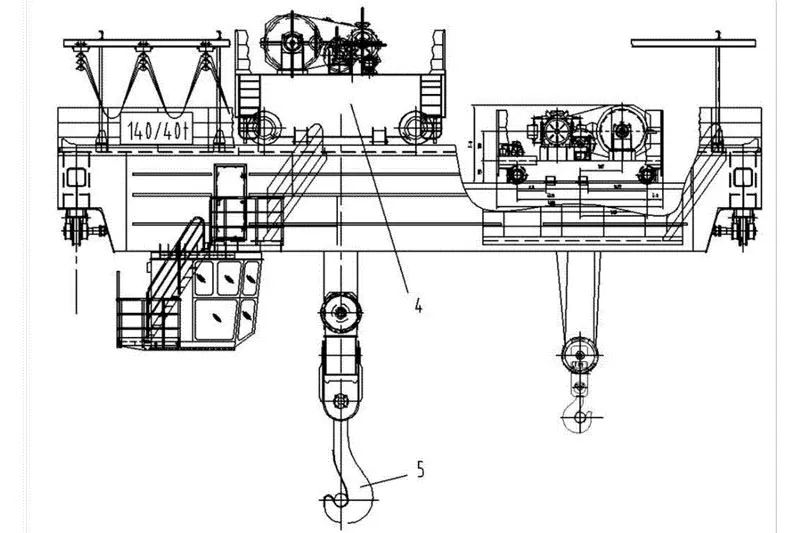 The manufacturing process of ladle crane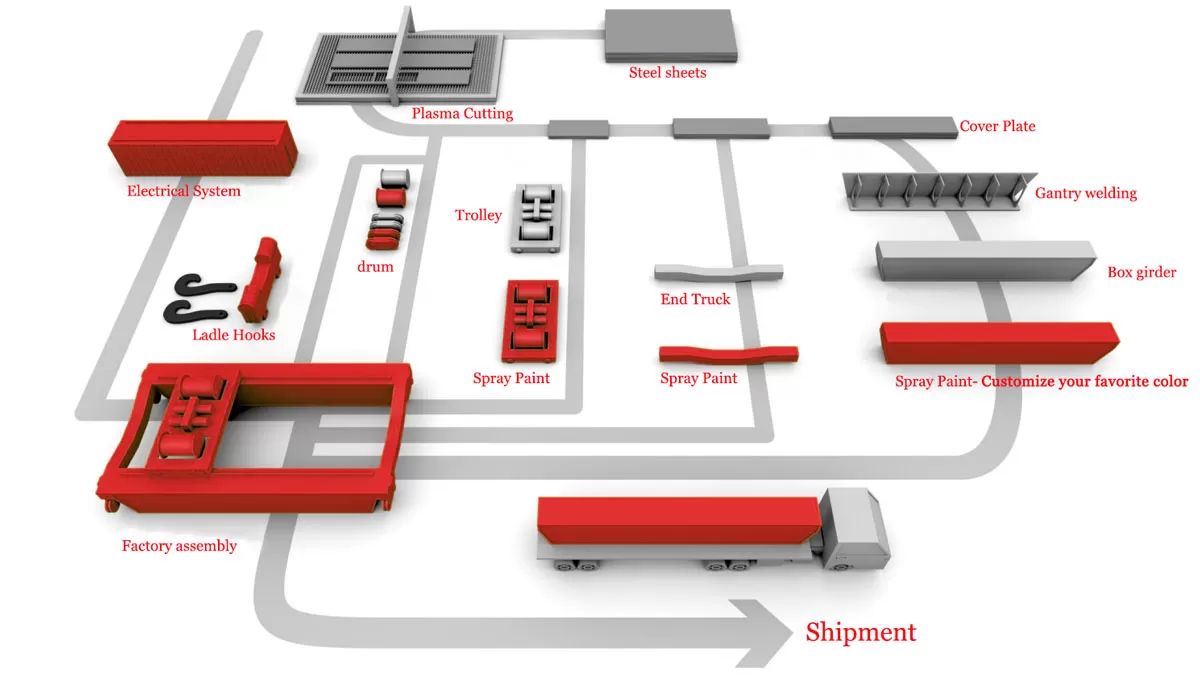 steel sheets
Plasma Cutting
Gantry welding - Box girder
Gantry welding - End Truck
Gantry welding - Trolley
Gantry welding - structural members
wheels, bearings, axles
Electrical engineering(Using Siemens, Schneider, SEW, ABB, Omron, and other international big-name electrical components)
Ladle Hooks & LIFTING DEVICES
Spray Paint- Customize your favorite color
factory assembly
Shipment
Features of Ladle Cranes
Ladle Cranes are the main equipment in the continuous casting process of steelmaking. Mainly used for lifting and transferring liquid ladle.
From the overall structure, it can be divided into (double-girder) double-beam double-track, (Four-girder) four-beam four-track, (Four-girder) four-beam six-track, and other types. The first two are generally used for medium and large tonnage Ladle Cranes, and the third is generally used for extra large tonnage Ladle Cranes.
The Ladle Cranes designed and manufactured by our company have the characteristics of advanced technology, novel structure, safe and reliability, economical and durability, and simple maintenance.
In addition, our company's Ladle Cranes can provide the following functions for users to choose from: rotatable spreader; gantry hook distance variable; load weighing, and display.
steel mill ladle crane installation video
Advantages of Ladle Crane
Ladle cranes are becoming increasingly important in the modern steel mill, as they allow for more efficient and safe operations. with Redundancy in All critical systems, meaning that even if one system fails, the ladle crane can continue to operate safely. This makes ladle cranes ideal for use in high-risk environments, such as steel mill.
Our electrical room is pressurized and Industrial Air conditioning (often abbreviated as Industrial A/C or Industrial AC)
Ladle crane can automatically limit the sway of the load during the handling process, achieve faster load handling and more precise load positioning, and stabilize it in place during the handling process.
ladle crane can be set with a hazardous area limit function, which reduces hazardous conditions when the load is moved and prevents damage to the load, crane, and surrounding facilities.
Project Cases
Weihua Ladle Crane in Sheffield Forgemasters, England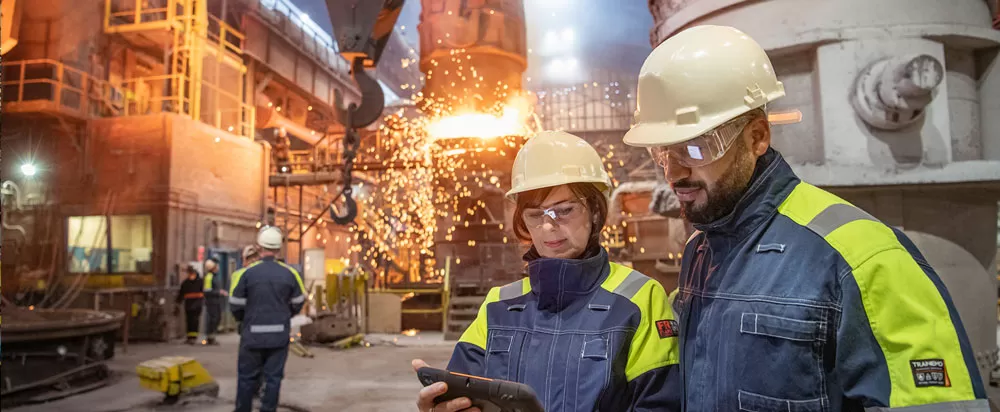 Weihua has equipped the melting workshop of Sheffield Forgemasters. with an industry-leading 105 tons ladle crane, which produces liquid steel in a wide range of grades. Enables Sheffield Forgemasters to produce handling liquid steel for their foundry and then ingots for customers.
Malaysia MCKIP 3.5 Million Tons Integrated Steel Mill Project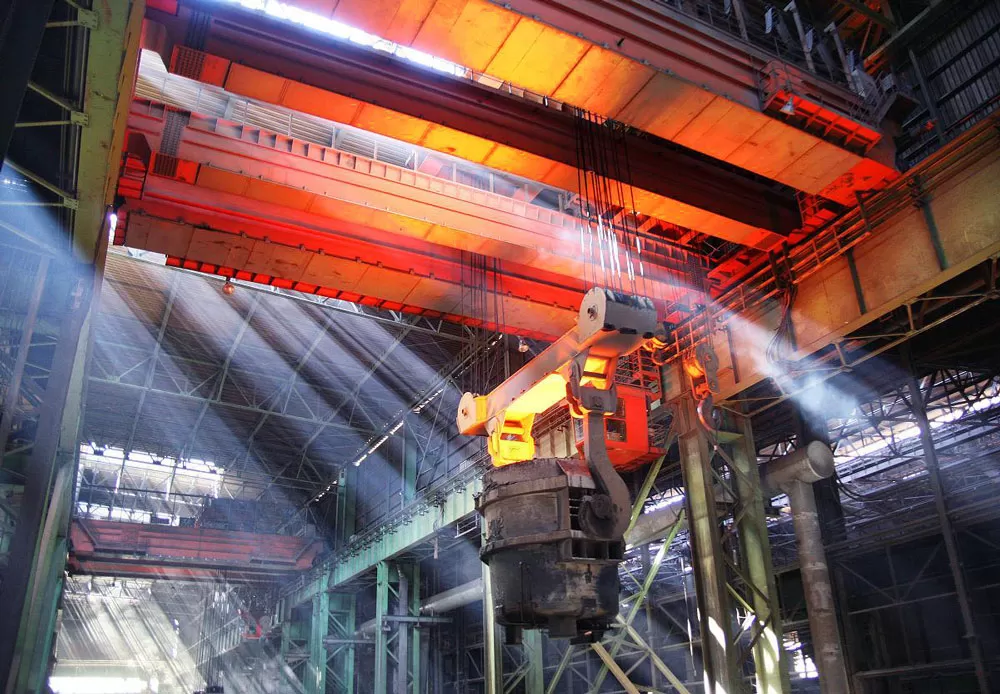 The total investment of the project is about 1.4 billion US dollars, covering an area of 710 acres, specializing in the production of steel plates, steel coils and H-beams, with an annual output of 3.5 million tons.
Weihua Crane Cases of steel mills
| | | | | | | |
| --- | --- | --- | --- | --- | --- | --- |
| country | project | equipment | use technology | New build/expansion | go into operation | client satisfaction |
| Turkey | ISDEMIR#4 | 50 tons ladle cranes,60 tons Teeming cranes, Scrap handling cranes | blast furnace-basic oxygen furnace (BF-BOF) | expansion | 2011 | 96.08 |
| Turkey | TOSYALI950 | 100 tons ladle cranes,90 tons charging cranes, plate handling cranes | Electric arc furnace (EAF) | expansion | 2013 | 98.03 |
| India | Engineers India Limited(EIL) | 320 tons ladle cranes,280 tons charging cranes, Coil handling cranes | Electric arc furnace (EAF) | New build | 2015 | 97.06 |
| Pakistan | MUGHAL steel mill 6 WVA | 150 tons ladle cranes,120 tons charging cranes, billet handling cranes | blast furnace-basic oxygen furnace (BF-BOF) | New build | 2019 | 99.09 |
| Vietnam | Hoa Sen | 200 tons ladle cranes,180 tons charging cranes, Slab handling cranes | blast furnace-basic oxygen furnace (BF-BOF) | expansion | 2025 | 98.01 |
| Dubai | TPCO | 250 tons ladle cranes,250 tons charging cranes, scrap handling crane | blast furnace-basic oxygen furnace (BF-BOF) | expansion | 2023 | 96.02 |
| Indonesia | Inter World Steel Mills Indonesia | 540 tons ladle cranes,500 tons charging cranes, scrap handling crane, Electromagnetic Overhead Crane | Electric arc furnace (EAF) | New build | 2022 | 99.99 |
Customer Feedback
We purchased 7 sets of 320-ton metallurgical ladle handling cranes in 2019. All the cranes are fully under operation and perform well. Your cranes are reliable quality and the after-sales service is in time and efficient. Our company is isvery satisfied with your products.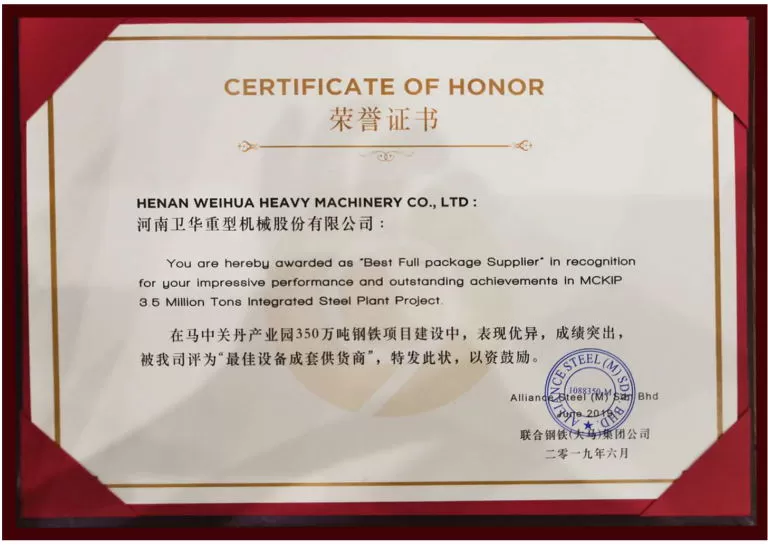 HENAN WEIHUA HEAVY MACHINERY CO., LTD: You are hereby awarded as 'Best Full package Supplier"In recognitionfor your impreeelve performance and outetanding achievementa In MCKIP 35 MIllon Tons Integrated Steel Plant(Steel Mill) Project.
We know the Steel Making Process, We will work with you to lift heavy and dangerous items throughout your operation.