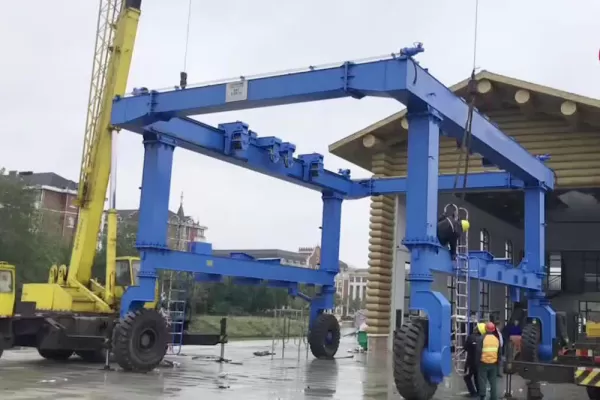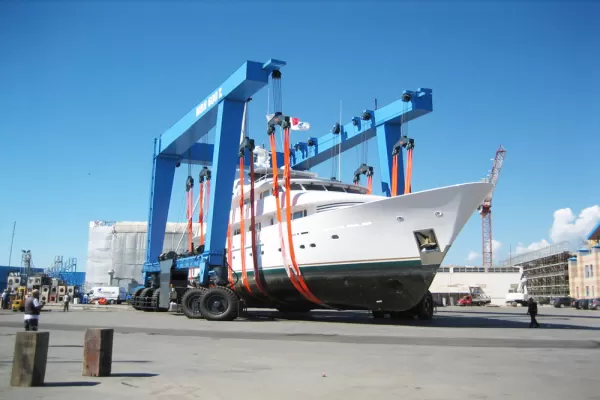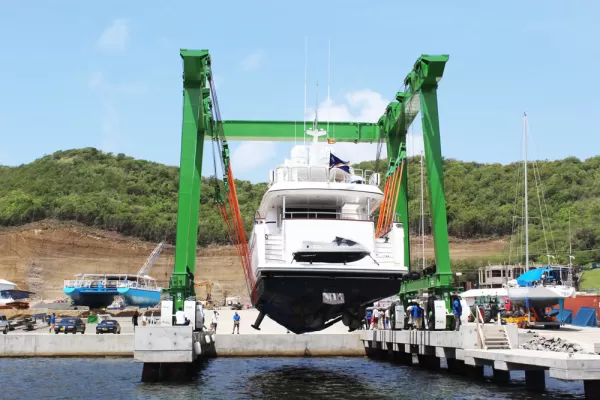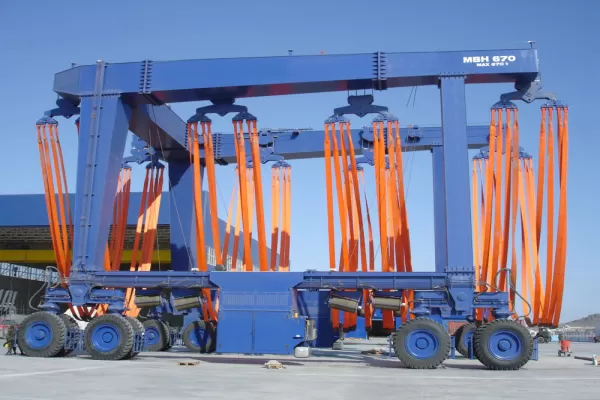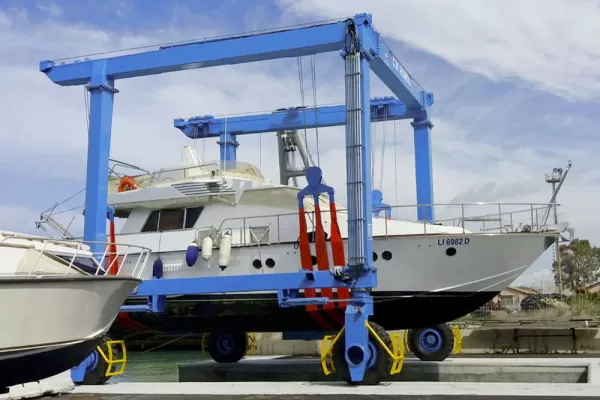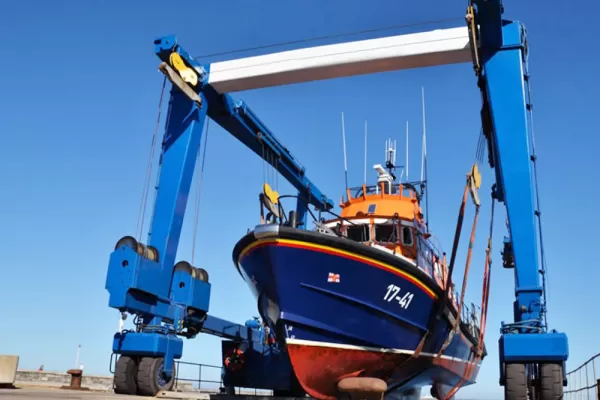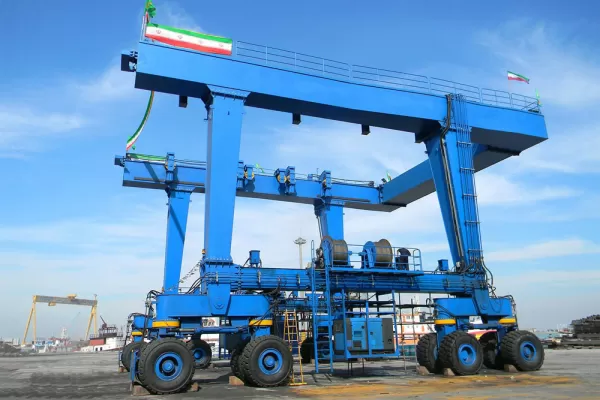 A travel lift or travelift (also called a boat hoist, mobile boat hoist, boat gantry crane, or boat crane) is a specialised type of crane used for lifting boats out of the water and transporting them around docks or marinas.
Boat hoists are an essential piece of boat equipment for anyone who owns a boat. They allow you to easily and safely raise your boat out of the water for storage or repairs.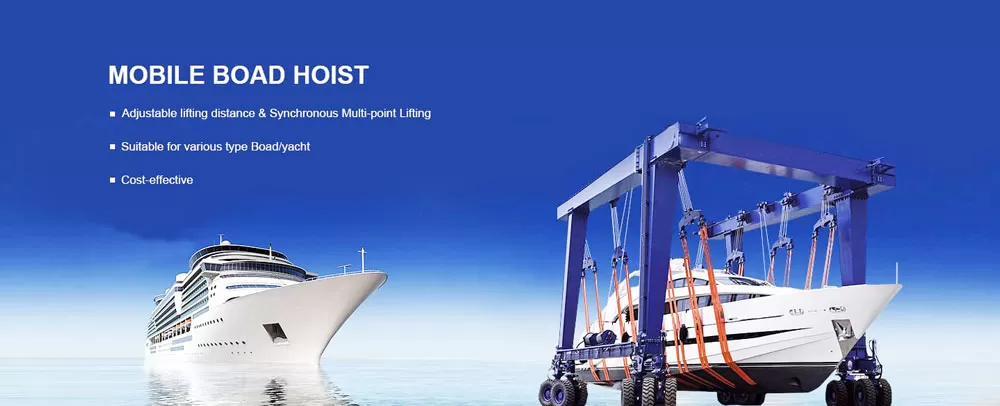 What is a mobile boat hoist?
A mobile boat hoist is a piece of equipment that is used to lift a boat out of the water. It typically consists of a set of metal beams that are mounted on a frame, and a hydraulic system that is used to raise and lower the beams. Boat hoists are often used to service boats that are too large to be easily moved on land. They can also be used to move boats from one location to another, According to different needs of customers, the mobile lifting hoist can perform varied functions, such as lift and move ships onshore for maintenance and repairing as well as arrange them in a specific order to save yard space. And also, it can be employed for the launching of newly built ships. The mobile boat hoists provide reasonable operating costs, flexible movement and high productivity for the operations of dockside.
Customized Mobile Boat Hoist
boat hoist lifts can have a variety of lifting capacities from tens of tonnes used for small boats to well over 1500 tonnes which can be used for sizeable ships. They typically lift loads at around 0-3m per minute and can be driven at speeds of up to 0-40m per minute.
Customize widths, heights, and more to fit your marina's exact specifications.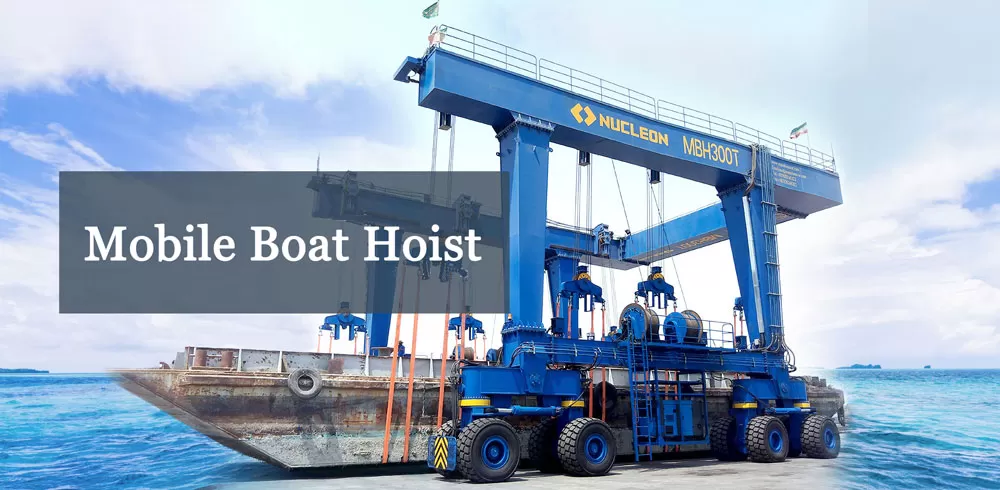 This boat hoist lift is employed in a variety of fields and occasions, such as shipyards, dockside, yacht clubs, water recreation center and navy to accomplish different lifting jobs safely and quickly.
How do you choose the right boat hoist?

When looking for a boat hoist, there are a few things you need to take into consideration. The first is the weight of your boat. You need to make sure the hoist can handle the weight. The next consideration is the height of your boat. Make sure the hoist can lift the boat to the height you need. And finally, consider the location of the hoist. Make sure it is in a spot where you can easily access your boat.
What are the dangers of using a boat hoist?

There are several dangers associated with using a boat hoist. One of the most common dangers is that the boat can fall off the boat hoist. This can happen if the boat isn't properly secured or if the hoist fails. Another danger is that the boat can be damaged if it is not lifted or lowered properly. Finally, using a boat hoist can be dangerous if you aren't careful.
How do you maintain a boat hoist?

Maintaining a boat hoist can be a difficult task, but it is important to keep it in good condition in order to avoid any accidents. Some of the things you should do to maintain your boat hoist include checking the chains and cables for wear and tear, lubricating the moving parts, and checking the electrical wiring. If you take care of your boat hoist, it will last for many years.
How does a boat hoist work?

When most people think of boats, the first thing that comes to mind is the image of a boat being lifted out of the water by a crane. This is done by using a boat hoist. Boat hoists use a large metal frame that is lowered into the water. The boat is then placed on the frame and the frame is lifted out of the water. This is a quick and easy way to get a boat out of the water.
types of boat hoists

There are two different types of boat hoists that are available on the market. The most common type is the 25t - 100t electric boat hoist, which is operated by a motor. This type of hoist is ideal for smaller boats, as it is lightweight and easy to use.Designed to lift a variety of vessels including: sailboats, powerboats, police and Coast Guard patrol vessels, catamarans, commercial fishing boats, and more.

25t-100t mobile boat hoist

The other is 100-1500 Ton Boat Hoists,These Boat Hoists are designed to move and launch a variety of large vessels including: tugs, ferries, superyachts, barges, commercial fishing boats, sailboats, and more. builds the most trusted boat hoists in the world.

200t mobile boat hoist

250t mobile boat hoist

300t mobile boat hoist

400t mobile boat hoist

450t mobile boat hoist

500t mobile boat hoist

600t mobile boat hoist

800t mobile boat hoist

100t-1500t mobile boat hoist
How much does a boat hoist cost?

Boat hoists can vary in price depending on the size and type you need. Basic boat hoists can start at around $40000, while more advanced and customized boat hoist can cost hundreds of thousands of dollars. It is important to shop around and get quotes from different dealers to find the best price for the boat hoist that meets your needs.