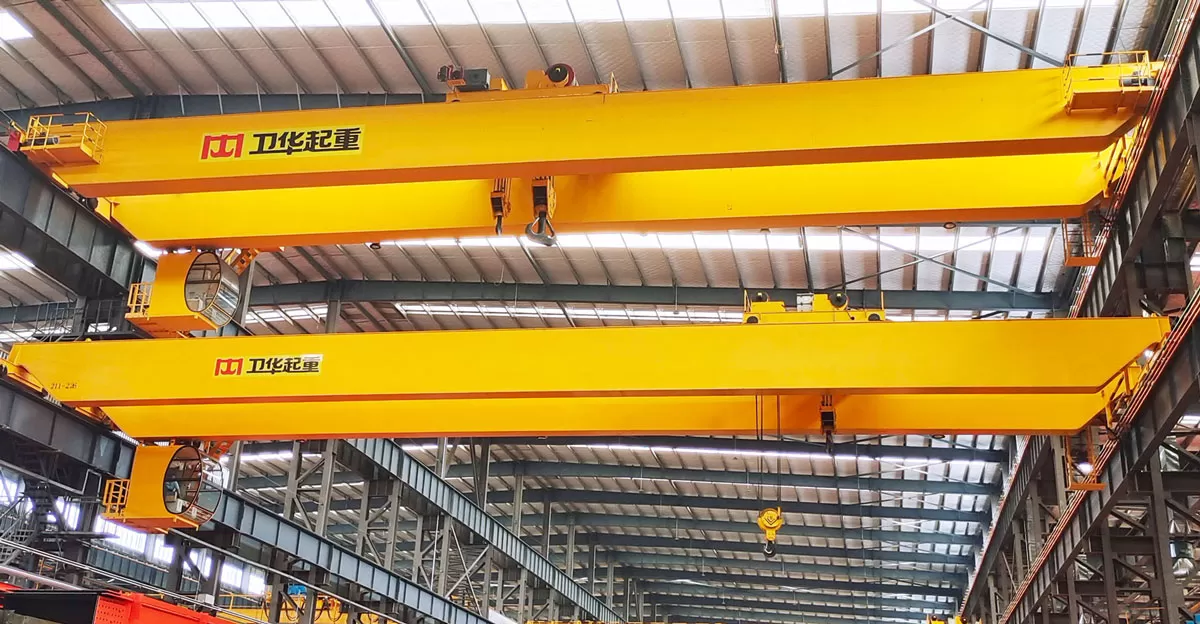 Overhead Crane Products:Light/Heavy Duty
Overhead cranes come in all different sizes, shapes, and capacities and selecting the right type of overhead crane is essential to streamlining your production processes.
Depending on the design of the building structure and the requirements needed to make the lift, bridge cranes can have different configurations, including single girder and double girder designs, and the trolley and hoist can be designed to be top-running or underhung.
Overhead cranes are usually divided into Single-Girder Overhead cranes and Double-Girder Overhead Cranes.
Heavy duty overhead cranes
Weihua heavy-duty Crane is Weihua's superior product,such as:casting crane、steel mill crane、ladle crane. Weihua's advantage of being the first in China's door and bridge crane sales for 14 consecutive years is based on industry-leading technology. This has allowed Weihua to win a 50% share of cranes in China's metallurgical market, and an 80% share of cast bridge cranes over 300 tons.

Load Capacity up to 800t.
Span: Can go according to your needs to customize the span of the overhead crane for you
Applications: The heavy duty crane is a machine used for heavy lifting in various industries such as construction, manufacturing, and shipping. It is useful for lifting and moving heavy loads safely in extreme environments.
Characteristics: comprehensive standard and optional equipment to suit individual applications
Other overhead crane types
Overhead cranes, in the industrial process, can also be classified into other types: Gantry cranes、Hoist cranes、Jib cranes、Workstation Cranes、Monorail Cranes
Overhead crane vs Bridge crane
Overhead cranes are also known as bridge cranes.All of them have the same material handling and load lifting operations.
The bridge crane category within the industry contains different types of cranes. One of the most utilized types of bridge crane is the overhead bridge crane.
Overhead crane systems not only offer the benefits of higher speeds and lifting extremely large load capacities, but they also don't add additional floor obstuctions to a facility.
Bridge crane systems that are overhead are either process cranes that are used for constant, specific heavy-duty lifting needs or modular cranes that are used in smaller mills and manufacturing facilities.
Overhead cranes are mainly used
We provide an extensive range of overhead cranes,such as processes crane、industrial crane、explosion proof overhead crane.........
Common industrial uses for them include production, engineering, automotive, container handling, mining, power, petroleum, shipyards, metals production, galvanizing, and waste management.
At weihua crane ,we are equipped to supply you with the overhead crane system to meet your every need.
Weihua offers assembly that is user-friendly and innovative designs that are beneficial for many different industries.
We can provide a tailor-made solution for your processes that includes: paper, recycling and bulk handling, aviation, steel production, steel handling, cement, glass, machinery, and equipment, concrete, and bricks.
1-800 ton overhead crane
We offer a wide variety of overhead cranes for light duty applications and demanding processes.
Weihua overhead cranes can lift, handle, and lower loads of up to 550 tonnes. There are four main types of travelling cranes: single girder travelling cranes, double girder travelling cranes for heavy duty work and wide spans, and underslung travelling cranes for buildings with special conditions. In order to optimise material handling, the fourth main type is the wall travelling overhead crane, installed on a separate crane track beneath the other types.
The weight that overhead cranes commonly used in material handling can lift is generally: 1 ton Overhead Crane; 2 ton Overhead Crane; 3 ton Overhead Crane; 5 ton Overhead Crane; 10 ton Overhead Crane; 15 ton Overhead Crane; 20 ton Overhead Crane; 30 ton Overhead Crane; 40 ton Overhead Crane; 50 ton Overhead Crane; 75 ton Overhead Crane;100 ton overhead crane.
We have custom cranes designed to suite your needs, whether you need to lift 1 ton, 320 tons, or more.
Industry-leading overhead crane technology
Overhead Bridge Cranes are not Satellite Science, but they are strictly controlled by OSHA, CMAA, NEC and several other specifications.
Our customer's business safety and productivity is increased by the latest technology weihua overhead cranes use. Weihua overhead cranes with software-based intelligence,Anti Sway Crane,are available to give you control over material handling in your production process. The crane operator's daily work is made easier and more efficient by them.
weihua crane company and products obtain the certificates such as ISO9001, 14001, OHSAS18001, CE, EAC, CUTR, SGS, BV, etc.
weihua industrial overhead cranes represent high-level weihua quality
As the world's leading overhead crane manufacturer, we offer cranes that can give you the greatest efficiency.
We can provide you with the right safety overhead crane to increase the safety and productivity of your business.Ensure the safety of your employees and the safety of the overhead crane operator at the same time.
FAQ
What is an overhead crane called?

An overhead crane is a machine used to move heavy objects around a factory or warehouse. Typically, they are mounted on a track system and can be moved along the track to wherever they are needed. They can lift and move objects, or place them in a specific location.

Overhead cranes are some of the popular equipment inside the material handling industry. These cranes are employed to safely move heavy materials from one point to another. You simply will not find some other tool that may be so versatile say for example a material handling overhead crane for this reason. For this reason your business should purchase and utilize this equipment without further delay. This informative article provides information about some great benefits of a material handling overhead crane.

Overhead cranes can proceed to places where other equipment cannot easily reach. If you wish to clear an aisle quickly, there is absolutely no better means of doing it than using an overhead crane. These power tools can move about obstruction quickly and help clear them in the jiffy. You require not worry very much about obstruction inside your warehouse once you have an overhead crane inside your establishment. This is one of the main great things about purchasing an overhead crane. The crane operator is able to enter into position so that you can safely move the heavy load.

Overhead cranes are customizable and adjustable in line with the situation inside your warehouse. The sorts of overhead cranes available on the market are limitless.

Bridge cranes are classified into two categories according to their service, capacity, and environment. The two types of cranes are commonly referred to as "Process" and "Modular" cranes.

Process cranes are built for a specific purpose and are heavy-duty, mainly Class D, E, and F cranes. These cranes are in constant, or near-constant, operation.

Typically, they are a top-running, double girder design that has a lot of engineering built-in to perform high capacity lifts or to perform a very specific task repeatedly.

Cranes used in industrial settings can be found performing 10-20 lifts per hour at 50-75% capacity in places like automotive assembly plants, steel mills, container yards, and lumber mills.

Modular cranes are typically found in smaller manufacturing facilities, smaller-sized mills, or machine shops. They have a design consisting of a more base-level hoist, trolley, and bridge. They are simple and cheap solutions to moving material through a facility and usually don't have a lot of extra features. If the lifting application requires it, these cranes can be bumped up to Class D with extra engineering built-in, though they are typically Class C and are being used at around 40% capacity.

You can buy the right crane to suit your workload along with other requirements. Your whole plant could be covered with an overhead crane. You will not find any dead spots when you work with an overhead crane. The operational prices are quite minimal when working with an overhead crane. There is absolutely no need to have tanks filled or charge batteries during this process. An overhead crane is obviously ready to get results for that matter. But you must buy a high-quality overhead crane on the market.

There are many essential things that you have to consider when selecting a very high-quality overhead crane. It is important that you get a higher-quality crane at an affordable price available on the market.

With 34 years of experience in crane research and development, manufacturing, construction and service, knowledge accumulation of millions of cases, and the advantage of being the first in China's door and bridge crane sales for 14 consecutive years, Weihua is based on industry-leading technology, the largest manufacturing scale and rapid The absolute competitiveness of delivery.
How can overhead crane safety prevent accidents?

Have safety inspections regularly, don't overload it, keep everyone out of the area except designated, trained workers, go slow and easy, and any rigging that is compromised in the scrap.

Overhead crane safety can prevent accidents in the workplace in a number of ways. It is important that all employees who will be working near or under cranes are properly trained in how to safely operate and move around them. It is critical that the cranes themselves are well-maintained and regularly inspected for any potential hazards. Secondly,Moving cranes should have warning signs and barricades to ensure that no one accidentally comes into contact with them.
The Difference of Overhead Crane and Gantry crane

Overhead cranes and gantries differ in that the crane girders of the latter are attached to its legs, allowing it to operate without runway beams and columns. A ladder and handrails are needed to be connected to at least one leg to climb the gantry. Gantry Cranes are mostly used in open areas like docks and ports.

The main difference between overhead cranes and gantry cranes is that overhead cranes are mostly used indoors, while gantry cranes are mostly used in outdoor open areas. Gantry cranes are more widely used in outdoor areas or outside the buildings. Overhead cranes can be installed by utilizing the building's column construction so that they can serve most of the areas in the building. Overhead Cranes are widely used in industries due to their considerable advantages in terms of capacity and area that can be served, from workshops, factories, mines, to power plants.
How do a crane and a hoist differ?

There are a few different devices that can be used for moving heavy items: a crane, a hoist, or a winch. These three devices all use ropes and pulleys to lift the object, but they differ in how they are set up and used. Suspending heavy objects from a projecting arm or beam, a crane is a large electromechanical device used for moving them. A hoist is a device that uses electricity to lift light loads by suspending them from a projecting arm or beam.
How much is a 10 ton overhead crane?

10 ton overhead crane usually span between 7m-32m, they cost about $4500.00-$45000.00

Since the working conditions for each customer differ, the price for the bridge crane of the same tonnage will also differ. The main factors that cause price differences include: lifting capacity, span, lifting height, power supply, actual working environment, and customer's special requirements. Any difference in one factor will cause the price to be different.

weihua 10 ton Overhead Crane For Sale

If you are looking for a cost effective 10 ton overhead crane, you can ask our experts for a quote. We will give you a detailed quote based on your customized needs.